Auden Grey's Nursery Revel
Stay Wild Little One.
Auden's nursery is my favorite room in the house. I loved working on the concept, design and execution of this with my husband. Because we did not know the gender of our baby we wanted to keep the design gender neutral and honestly even if we knew the gender I did not want to use a lot of the traditional pink and blue. The overall aesthetic of our house is based on minimalist Scandinavian design and we wanted Auden's room to also follow these design aesthetics.
We wanted the nursery to have a soft expression as well as the right balance of punch. We wanted the room and design to stand the test of time.
We wanted the room to have depths of whites and creams.
The art work we selected were more illustrative and pieces that could grow with Auden. The furniture we selected had simplistic modern lines that would allow us to use the pieces as Auden grows. We are obsessed with James Jean LINK and have 3 of his prints in our house. We loved the zodiac signs and the calming hues of this piece.
JR created the other hanging art work in the room. We wanted the art work to be more playful and kept within the similar look and feel to the Baby Shower concept.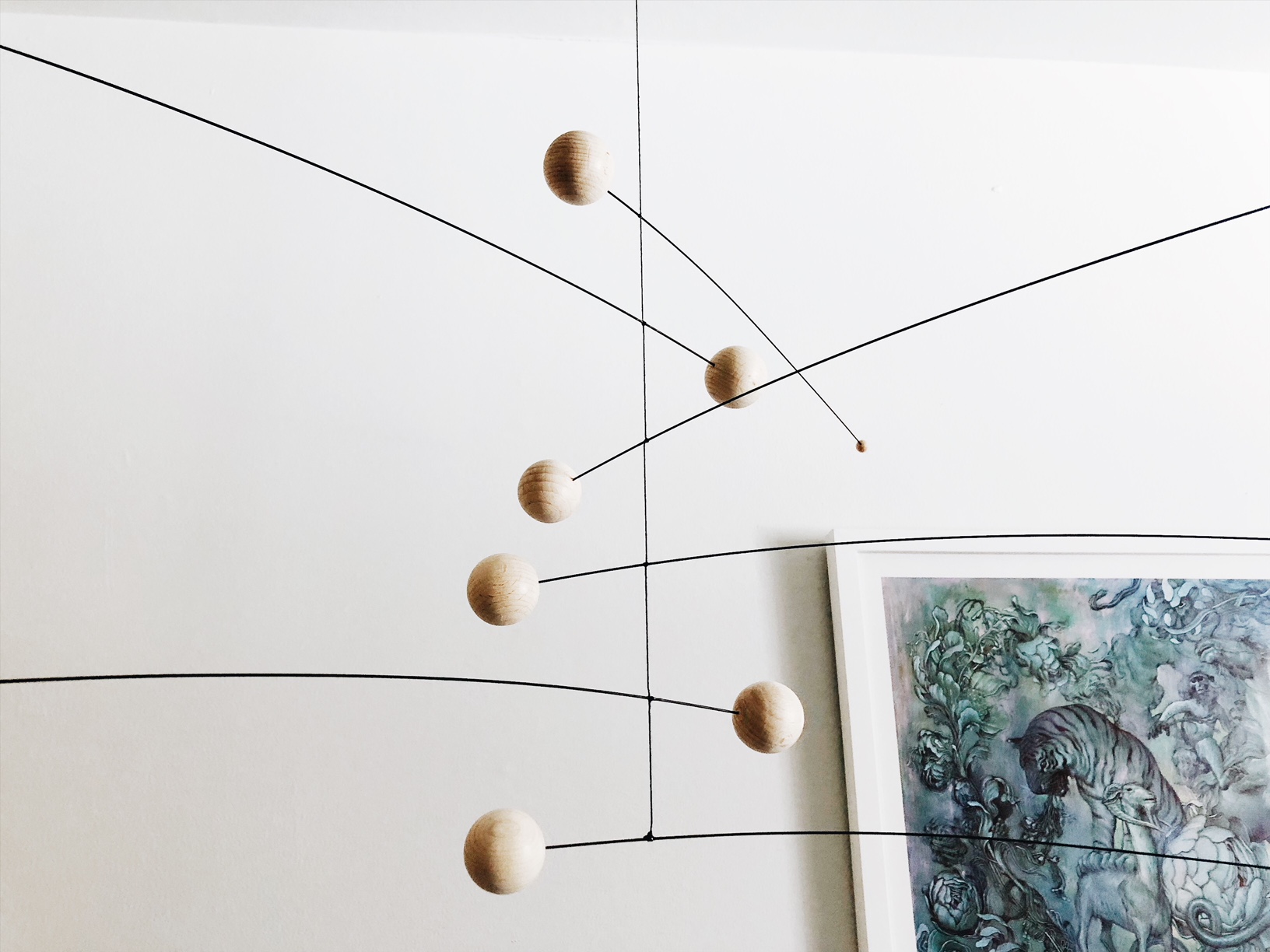 We wanted a clean abstract and modern mobile. We found this moblie and fell in love.
Auden loves this activity mat- she loves to look at the hanging animals. We selected this for its strong use of black and white and great playful concept. LINK
These are my favorite bed sheets-EVER! LINK We wanted the bedding to have a clean and modern feel- while being playful with the illustrative animals. Don't worry the pillows do not stay in the crib- but I love the layering of grey and black and white. These were purchased for other parts of the house- I have a slight pillow obsession :)
The pops of color came from the accessories and toys we displayed in the room.
Every item selected has significant meaning to us- even the stuffed animals. We love the idea of having an Ugly doll (ours is discounted) LINK that celebrates the special and unique qualities. This was the first thing that I bought before I was pregnant just in anticipation for our future bundle. The lion represents JR and my first date LINK. The dinosaur represents our love for history and dinosaurs of course! The concrete hexagon box we actually used at our elopement to hold our wedding rings LINK so I loved the idea of moving it to Auden's room. Plant life was something that we wanted to make sure we had a lot of- we snatched this little guy at IKEA- but the planter on Amazon, we loved the white texture LINK.
We wanted to add little touches of color. I had to put my toy on Auden's shelf LINK. We also displayed a few select books that focus on art and design. We incorporated the fortune cookie LINK we used at Auden's baby shower to add a nice touch of gold that sits in front of a wonderful illustration by Invisible Creature LINK.
I am really glad we decided to get a changing pad on top of the dresser LINK. I love this one- LINK it is so easy to keep it clean. I just wipe it down with a disinfect wipe which comes in very handy when we have accidents. We purchased the little basket before we knew what we were going to use it for, but it ended up being the perfect diaper holder. They are always handy. We also love the diaper pail- it really does help contain the smells! LINK
We are using JR's rocking chair that his mother used. I love the history of the piece. I nurse Auden and rock her to sleep in the chair.
Even though we intend on moving out of our townhouse in the near future- we love this room and I can't wait to set it up again.